GSM SPY ALARM AUDIO WITH GPS £128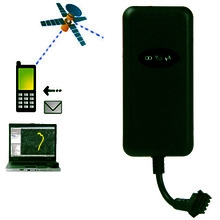 Comprises of a GSM security and surveillance system which will send an alarm message and GPS location to up to 3 telephone numbers when an intruder is detected or a panic button activated.

OPERATION
The spyalarm will operate with any type of alarm system control panel, panic switch, intruder or fire detector, or even a micro switch and tripwire. When activated, alarm text messages are sent to up to 3 land line or mobile phone numbers, the unit then dials the numbers in turn until one answers, then live audio from the spyalarm's location can be monitored until the receiver hangs up.

SURVEILLANCE ON DEMAND a high sensitivity easily hidden, external surveillance microphone is supplied which can monitor voices up to a distance of 15 meters and sound activity of intruders at a distance of up to 30 meters, the microphone can be monitored at any time from anywhere in the world by dialling the spyalarms's simcard number from a land line or mobile phone.

To protect items of value that can easily be stolen, the spyalarm incorporates a vibration sensor which can be set by a key or hidden switch or time switch. If the item is stolen the spyalarm will send text messages to up to 3 users showing its exact location on a Google Map with an accuracy of approx 3 meters. The

spyalarm's

exact location can also be obtained at any time,, by texting the word 'where' to the spyalarm. CALL US FOR A DEMO.



SPECIFICATIONS

SIZE: 100 x 50 x 15 mm
POWER: 12 to 24 volt, 25ma in standby, 300ma active, operates from any 12v battery, solar charger or mains adaptor.
BACK UP: If power supply fails or is cut, a power fail text is sent to users and internal battery takes over for up to 5 hours.
SIM: Operates with any CONTRACT or PAYG 2G mobile phone simcard.
MICROPHONE: Supplied with mini surveillance microphone on 2m lead, can be extended to 10m using screened cable.
SET UP: Phone numbers and functions can be added or deleted via text message.
ACTIVATION: To activate an alarm condition, a 3 second N/O input is required from any type of sensor, panel or panic button (see OUTDOOR ALARM OR MICROWAVE sensor).
NB: After the alarm texts have been sent, the telephone dialling sequence stops when any phone answers the spyalarm call (answerphones should to be switched off ).


APPLICATIONS
The spyalarm can be added to any existing security system to act as an automatic telephone dialler where no landlines are available, or as a stand alone ( if used with the ALARMSPY OUTDOOR ALARM or MICROWAVE sensor ) security system to protect;

Isolated buildings.
Storage facilities.
Airfields.
Construction sites.
Farm yards,Shoots.
Stables.
Livestock access, etc.

The

GPS

tracking function is ideal for portable and mobile applications to protect;
Vehicles.
Plant hire.
Trailers.
Motor homes.
Aircraft.
Boats.
Farm machinery etc.

A effective solution to protect all types of vacant property.

CUSTOM BUILT LOW POWER VERSIONS are available for statues, ornaments, works of art etc.

The microphone also allows remote audio monitoring by telephone of any location from anywhere in the world !!!!!!!!!!

We can supply above with a GGF sim card fitted and programed with any numbers ready to go.The GGF sim card operates on the O2 network but costs 50% less in call charges as O2 PAYG



INSTALLATION GUIDE
The spyalarm is a modified version of our gsm vehicle tracker and only requires the following connections and ONLY paragraphs 2,3,6.3,6.4,6.5,6.6,7.5 & 7.7 in the instruction manual are relevant.

WIRING
Connect RED & THICK WHITE(or ORANGE early version) WIRES TO 12V + supply
Connect THICK BLACK TO -0V supply
Connect THIN ORANGE WIRES TO A normally open detector,

microswitch

or connect a N/O relay to alarm panel bell output.
Connect THIN RED & BLACK TO microphone via plug.
REST NOT USED

RELAY
Supplied relay connections
WHITE PIN85 & YELLOW PIN86 ARE RELAY COIL
GREEN PIN 30 & GREEN PIN 87 ARE NORMALLY CLOSED CONTACTS
To change relay to normally open contacts remove center green wire from pin 87a and refit it to bottom pin 87,,this enables relay to be used with alarm panels or normally closed sensors to trigger dialer.

SET UP
Check for good signal strength in the area of operation with a mobile phone and a 2G network sim card.
Install any contract or PAYG sim card that shows good signal and switch slide switch to on.
Slow flashing red led shows power ok.
Slow flashing green led shows GSM coverage ok.
Continuous blue led shows GPS coverage ok if required (not needed if used as a alarm dialer)

SEND THE FOLLOWING TEXES TO THE SIM CARD NUMBER IN THE DIALER
6.3 send GPRSON,0# to switch gprs off,, as not required.

6.4 send SOS,A, no1,no2,no3# to set up the 3 numbers to be called when activated (enter the actual numbers in place of no1 etc)

If only one number required send SOS,A,thenumber#

eg

SOS,A,1234567890#

6.5 send SOS,D, no1,no2,no3# to delete all the numbers to be called if changes are required.

6.8 send PARAM# to check the dialler's settings,,the programmed numbers will be texed back.

7.2 send WHERE# to get the location of spyalarm at any time.

IF INCORRECT DATA IS SENT, THE DIALER MAY NOT RESPOND TO FURTHER INSTRUCTIONS.
TO RESET,, SWITCH OFF DIALER AT SLIDE SWITCH,REMOVE SIM CARD AND START AGAIN AFTER 5 MINS.

NOTE INCLUDE ALL COMMA,S ALSO SOME SMART PHONES DO NOT ALWAYS SEND THE CORRECT TEXT DATA,,
TRY ANOTHER PHONE TO SEND TEXT DATA IF NEEDED.

For trade enquiries see contact.